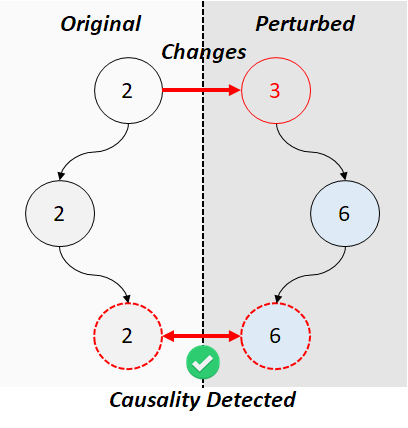 Lightening Summary (TL;DR).
Prior to my work, the two most widely used state-of-the-art techniques for attack investigation were taint analysis and audit-logging. Unfortunately, taint analysis suffers from significant performance overhead. More importantly, both taint analysis and audit-logging are inaccurate as they are
imprecise approximation of causality inference
.
Counter-factual causality, first introduced in the 18th century by David Hume, can be used to describe the desired causal analysis in an attack investigation. Specifically, given two events,
a latter event is causally dependent on a preceding event if changes at the preceding event lead to state differences in the latter event
.
Hence, I propose a precise causality inference technique that follows the original definition of counter-factual causality via dual execution which runs two different executions (e.g., the original execution and its mutated execution) in parallel and compares the state differences between the two executions.
Further extending the causality inference engine, I propose and develop a
modeling-based causality inference technique
that does not require any changes on end-users system. It is more accurate and precise (0.1% FP/FN) than the previous state-of-the-art attack provenance techniques.
Highlights.
I propose novel causality inference engine, LDX, which is more precise and efficient (
7% of average overhead
) than state-of-the-art dynamic taint analysis and audit-logging techniques. LDX can
precisely and accurately
handle control dependencies which is a major source of inaccuracy in previous approaches.
I propose MCI, a model-based causality inference technique,
precisely infers causality
from system call logs generated by existing audit-logging systems
without any additional requirements on end-users' systems
.
Publications.
LDX (ASPLOS'16), MCI (NDSS'18)
---
Investigating advanced cyber attacks (e.g., APT) is challenging.
Recent cyber attacks are becoming increasingly targeted and sophisticated. Especially,
Advanced Persistent Threat
, or
APT
, is an attack that targets a specific organization and compromises target systems over a long period of time without being detected.
Investigating such attacks are challenging because, first, they happen over an extended period time, even years, and, second, they affect many parts the system including executable/configuration/data files in a complex way. Logs to be inspected are more than hundreds of gigabytes including a number of benign activities. Attack provenance is often across multiple processes and files requiring a technique that can precisely identify dependencies.
Existing Approaches: Taint Analysis and Audit Logging.
Taint analysis and audit logging are two state-of-the-art attack investigation techniques.
1) Taint analysis tracks program dependencies by monitoring the data propagation on individual instructions. It is slow because it needs to monitor every instruction, and more importantly, inaccurate because it has difficulty handling control dependencies.
2) Audit-logging focuses on dependencies between system calls. For example, all system calls on the same file handle are causally related, and within a process, all output system calls are causally related to all input system calls. Such coarse-grained analysis often causes a large number of false positives.
For example, consider a Firefox program running for a day, downloading many files from different websites. Audit-logging tools often assume all outputs are dependent on all inputs. Such an assumption is too coarse-grained. Specifically, they may say all downloaded files are dependent on all websites, even though only one or two files and websites are relevant.
What we need is Causality Inference.
Counter-factual causality, first introduced in the 18th century by David Hume, can be used to describe the desired causal analysis in an attack investigation. Specifically, given two events, a latter event is causally dependent on a preceding event if changes at the preceding event lead to state differences in the latter event.
For example, consider there is an incoming network message, and then a file has been changed. In this case, changes in the configuration file are causally dependent on the network message if I block the network message, then the file will not be changed. To this end, I realize that the limitations of taint analysis and audit-logging root from their imprecise approximations of causality inference.
LDX: Causality Inference Engine via Lightweight Dual Execution.
My research takes a fundamental approach: adapting the original counter-factual causality concept in the context of program and program execution. Given an execution, two events at execution points P1 and P2, a later event is causally dependent on a preceding event, if changes at the preceding event cause state differences at the later event.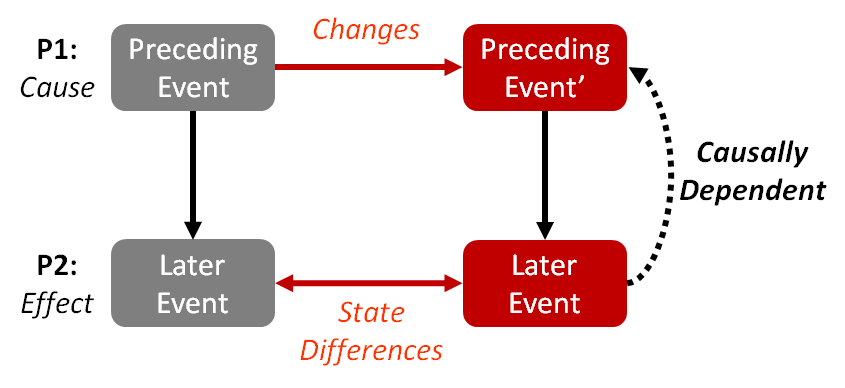 LDX conducts faithful counter-factual causality inference on computer systems via dual execution. Specifically, it runs two executions in parallel — the original execution and its mutated version with mutations on input syscalls. Then, it observes differences at output syscalls. Any difference indicates causality between the mutated input syscalls and the output syscalls.
LDX: Challenges and Solutions. Due to the mutation LDX introduces, the mutated execution may take a different path, leading to a different sequence of executed syscalls, when compared with the original execution. Hence, a fundamental challenge of LDX is to align the two executions so that they can be compared at the same execution point, because comparing executions at misaligned points leads to incorrect causality (i.e., FP/FN). To this end, I designed a novel runtime counter derived from program structure. The counter is not a simple logic timestamp, but rather denotes execution points by ensuring an important key property: The counter value indicates the relative progress of executions, meaning that an execution with a larger counter value must be ahead of another execution with a smaller counter value with respect to program structure. The counter facilitates alignment of two executions, enabling precise and efficient causality inference.


Toward a practical attack investigation system.
LDX enables precise attack investigation through causality inference. However, it needs to instrument programs to align the master and slave executions. In fact, many previous attack investigation techniques such as BEEP also require program instrumentation on end-user systems.
Unfortunately, instrumentation is not always a possible option.
In our conversations with companies and government agencies to deploy many attack investigation techniques, one common concern was that we are not allowed to instrument programs because of their internal policies or contracts with software vendors. While there are automata-based techniques where they construct automata that represent program behaviors and parse system call logs to identify the behaviors,
they do not take dependencies into account.
In other words, they do not know causality between the detected behaviors. For example, they may be able to detect individual "read a file" and "write a file" behaviors, while they do not know the relationship between them (e.g., there may be dependencies between the read and write operations). The lack of dependencies significantly limits their applications in attack provenance.
MCI: Model based causality inference.
MCI leverages a key observation which is "system calls in audit logs have explicit and implicit dependencies that can be leveraged to build expressive models."
Specifically, there are two types of dependencies:
explicit and implicit dependences
. Explicit dependencies are identified by file handles shared by multiple system calls. Implicit dependencies are caused by memory operations and control dependencies, and they are not visible in system call logs. Hence, we use LDX to infer them. MCI works as follows:
1. Causal Model Generation. Specifically, we first get causal models in the offline phase. A causal model is a sequence of system calls with annotated inter-dependencies between them. In high-level, a causal model represents a typical workload such as opening a file. System calls in a model are the ones that always appear when a program processes a typical workload. Given a program, we use LDX to infer causality between system calls on typical workloads. Then we build causal models from the results.

2. Causality Inference via Causal Models. During deployment, given a system call log and causal models, MCI parses the log with the causal models to infer causality from the log. Causality in the audit logs is exposed though causality annotated in the successfully parsed models over the log. More importantly, the composability of models essentially connects causality across multiple parsed model instances, which enables complex attack investigation across multiple workloads.

Challenges: Parsing syscall logs with causal models with implicit dependency information leads to two prominent challenges: (1) language complexity and (2) ambiguity. First, to express complex inter-dependencies annotated in causal models, expressive grammar is required while more expressive grammar describes more complex language (e.g., context-free or context-sensitive) and hence leads to higher cost in parsing.
Second, some syscalls can be parsed by multiple models that share common parts (e.g., common prefixes). In such cases, it is difficult to decide which model is the right one. As different causalities are derived from different models, the ambiguity problem may lead to incorrect causality (i.e., FP/FN).
To solve these challenges, I designed a novel model parsing algorithm called segmented parsing that can handle multiple model complexity levels (e.g., regular, context-free, and context-sensitive) and substantially mitigate the ambiguity problem by leveraging explicit dependencies that can be directly derived from the log (e.g., dependencies caused by file handles). Specifically, MCI first obtains a model skeleton of each causal model. A model skeleton consists of syscalls with explicit dependencies. The skeleton partitions a model into model segments that can be described and parsed by automata. More importantly, causal models have composability such that models for primitive operations can be composed together to describe complex system-wide attack behaviors. For example, primitive models for "Edit", "Copy", "Paste", and "Save" can compose a new model that represents a complex user behavior "Edit->Copy->Edit->Paste->Edit->Save" (e.g., potential data exfiltration).